---
Ozello Keys Pontoon Tours
---
Formerly known as Boats of Ozello, Ozello Keys Pontoon Tours services all of Ozello Keys, Homosassa River, and St. Martins Rivers. Our daily trips take you into the fertile feeding grounds of Manatees, Dolphin, Alligators and a variety of tropical birds. Shore line sightings may include Turtles, Otters, and Wild Boar. Check out our different types of pontoon boat tours to see which match your needs the best.
---
Our Captains
---
Our pontoon boat captains love what they do! Captain Chrissy is a seasoned Captain and boater with an eye for spying wildlife in the air and water. She's an awesome diver and trainer for Scalloping Tours. Captain Stephanie is also a seasoned tour guide, very informative and friendly with a sense of humor.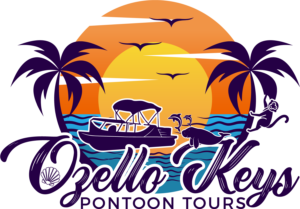 We took a manatee tour in The Homosassa springs area and it was fantastic! Captains Steph and Chrissy were fun and informative. The boat is very comfortable. We saw dozens of manatee and their pups as well as other wildlife. We throughly enjoyed ourselves and are looking forward to another trip.

I went on a boat tour with them and it was so much fun! They let us bring our pups and stopped at local bars. They were so friendly and energetic! Thanks so much!

When 3 of my girlfriends and I decided to rent a pontoon boat for a few hours of fun on the water, we selected Boats of Ozello because we knew it was owned and operated by 2 local women….what a great decision!!! Steph was our Captain…..Her unique knowledge of the water, along with the history of the area, was just the beginning of our adventure…adding in her friendly and helpful attitude made it perfect! I'm attaching a picture of us "Monkey-ing Around" at a local Monkey Island eatery – We've already made plans to do this on a regular basis!

My fiance and I went out with Capt Steph. She is one experienced boater. I felt safe while out on the water. We saw dolphins and visited Monkey Island. I used to live in this area over 20 years ago. I saw some beauty in the water that I did not even knew existed. Capt Steph has a great down to earth personality. She has a great sense of humor too. So if you are in the Crystal River area in Florida look for Ozello Keys Pontoon Tours. Thank you !!!!!

Our boating experience was amazing! We got to bring our dogs along with us and they took us out onto the Homosassa river up to the spring. We saw dolphins and monkeys! It was a really great afternoon and we got to enjoy Florida's natural beauty. The ladies were so kind and knowledgeable about the area and we had a blast!

My wife and I did a boat tour with captain Stephanie she was wonderful polite nice very knowledgeable we had a great time with her I would go out on the boat with her anytime anywhere.

We absolutely loved Stefanie and Chris! They were incredibly knowledgeable of the area, and were open for fishing, swimming, snorkeling, or just riding around. They answered us back immediately, and made every effort to accommodate our time there. In addition to that, they were super cool and we enjoyed just hanging with them. I would highly recommend them to everyone, whether you're looking to just fish and hit several spots, or ride and enjoy all the natural beauty Crystal River has to offer- which is a lot! They even spotted a manatee out swimming outside of the springs, near the gulf opening, and we got in and were able to swim and pet him. It was incredible! We will always remember that, and we will definitely be back!

We had a wonderful tour with boats of Ozello! The captains were all very knowledgeable on the area. We saw plenty of wildlife and appreciates that the tour was dog friendly. Our dogs had the time of their lives! We also loved the extra stop for cold drinks!
companydistinction.com
I hope this message finds you well. My name is Jacqueline Collins, and I am writing on behalf of the Crystal River Award Program. We're the organization that puts on the annual "Best of Crystal River Award", and I'm pleased to inform you that your company has been selected as the winner in the category of Boat Tour Agency.
The Award Program was created to honor and generate public recognition of the achievements and positive contributions of businesses and organizations in and around Crystal River. We believe that it's essential to acknowledge and reward businesses that contribute positively to the local economy and reputation of Crystal River. This award is an acknowledgment of your team's hard work and dedication.
We've included a link to our website below that more fully describes your selection.
https://crystalriver.companydistinction.com/SGTEMK8W
Congratulations on being part of the Award Program.
Sincerely,
Jacqueline Collins
Review Committee
https://crystalriver.companydistinction.com/sgtemk8w_OZELLO-KEYS-PONTOON-TOURS-LLC
Repeat customers here
Third time out with Ms. Captain Stephanie and surely not the last! We are working on seeing her again come scalloping season. This third time she guided us for the manatee swim. She doesn't disappoint. So gracious and knowledgeable and quick to see the manatees. We consider ourselves fortunate to find her on our first visit to this area. ( I met her at the small Ozello marina and knew within minutes I found a very genuine, friendly person.) Bonus – she was a captain offering several different tours. We hired her for an airboat and a pontoon boat tour – both covering different areas of the waters, this third manatee trip. And we plan to do some scalloping this summer with her. Don't hesitate to give her a call, and whichever one and/or all the tours she takes you on, you will be glad you chose Ms. Captain Stephanie Bates!
Airboat Ride
Penny Jo Weaver
Local Guide • 20 reviews • 31 photos
2 hours ago
Had the great pleasure of an airboat ride with Captain
Stephanie Bates! She is very knowledgeable and engaging.
With a great sense of humor also! I highly recommend this
Fun and informative Manatee Tour
We had a great Manatee Tour with Captain Stephanie! Saw lots of manatees and enjoyed an informative boat ride to the springs. Captain Stephanie was great at spotting manatees and pointing them out to us. She was also conscientious of the safety and protection of the manatees. Plus, we got some great tips on other things to do while visiting the area. Thanks for a great trip!
Sunset Tour
c Chris Innes
7 reviews • 0 photos
***** 14 hours ago
We took the sunset cruise with Captain Stephanie, and it was perfect. The pontoon boat was comfortable with blankets provided if needed for the cold after sunset.
Captain Stephanie was loads of fun and a font of local information, and she timed our arrival in the Gulf so that we could watch the sun sinking slowly into the still waters. It was magical
Best water tours and fishing time ever!
Captains Chris and Steph have been the best tour guides ever. They are informative, friendly, patient and accommodating. They know about the history of the area, terrific fishing guides and just all around fun to be with. We have been on numerous trips with them and will return again as well. Thank you Captain Steph and Captain Chris for the great time.
Best day ever!
Showed up for a scallop tour with my husband and mother in law. Weather wasn't in our favor so Captain Chris to save the day, took us out fishing. Ended up having the most amazing day on the water. Don't go anywhere else! Book here now. You won't be disappointed
Scallops, Fish, Monkeys(!) and Great Fun!
We've just had the most amazing experience scalloping with Captains Steph and Chris! After receiving a recommendation, we duly contacted Boats of Ozello for a family day out on their boat snorkelling for scallops. The day started at around 11 am, and we were straight out onto the water. The boat was very comfortable, and we were able to take a cooler with some drinks and snacks. On the way out, Steph provided a running commentary on what I can only describe as some of the most beautiful scenery I've ever seen in Florida – crystal clear waters, amazing wildlife – it's an experience you can only get by boat.
Within just a few short minutes, the whole boat was laughing and joking with Steph and Chris and we felt immediately like it was a day out with family and friends we'd known for years!
On reaching the scalloping grounds, Steph navigated us to a quiet spot and took a moment to explain some basic safety advice and some rules. By the time she'd finished speaking, Chris was in the water, already heading out to find some scallops to show us "the ropes". Our 14-year-old daughter hasn't snorkelled before, and I was particularly impressed at how Chris took her under her wing and swam with her for quite some time and helped her catch her first few scallops! After that, we couldn't get our daughter out of the water, she loved every second!
After a few tips from Steph and Chris, we were catching scallops constantly and admiring the wonderful sea life – starfish, lots of brightly coloured fish and of course, the scallops! (which, if you've never seen, are quite amazing to see when they're staring back at you with their dozens of bright blue eyes!)
We snorkelled for what seemed like a couple of hours (the water was a welcome break from the sun!), and on entering the boat, we were asked if we'd like to carry on or do a bit of a tour of the local area – we chose the latter. This involved a good hour or two of sailing around the various inland waterways while eating lunch and having some fun on the boat. On the way in, Chris taught me how to shuck the scallops and prepare them for eating – which we did, raw with some hot sauce – DELICIOUS!
We then headed back into a great location with bars right on the dock and did a quick lap of "monkey island" (there are actual monkeys!) before spotting a group of dolphins hunting their lunch! Steph pulled up to a position where we could watch the dolphins splashing around and herding the fish ready for them to eat – absolutely incredible. This was followed by a couple of dolphins swimming down the length of the boat – we could almost touch them!
I cannot begin to describe how amazing this experience was: Steph and Chris's local knowledge, professionalism, and not to mention, humour! made the trip one our family will never forget. We were not rushed at any time, and they put so much effort into ensuring we all had a great time, even those that decided to stay on the boat – a good time was had by all!
So if you're in the Homosassa area and you'd like to go scalloping or just rent a boat and captain for a day, give Steph and Chris a call; you will not be disappointed! We will be back again in a few months, and we'll be seeing our new friends again for another unforgettable experience out on the water.
Scalloping in the shallows
We had a wonderful day out on the bay and the water was perfect to just reach down and grab scallops. Captain Chris and Stephanie were very helpful and empathetic to some who were a little hesitant in my group. I'd recommend this your company and their location was nice and close to the gulf which meant more time in the water for us!
Fantastic scalloping with Capt chris
Loved the trip, loved captain Chris. Would definitely do it again.
A true local tour!
We had an amazing time on our tour with Captain Steph! I can't believe how knowledgeable she is about all of the different waterways! She took us to places that no other boats were because she is a true local who knows those waters best. Her knowledge of the area and its history is truly amazing. We saw so many different animals, from manatees to monkeys! My daughter (19 months) had the time of her life. The boat was spacious and comfortable for our family of 4 adults and 1 child and the ride was smooth. I can't recommend Ozello Keys Pontoon Tours enough. You won't be disappointed!
AWESOME TIME SAW SO MANY COOL THINGS!
This trip was amazing. We saw dolphins, sea turtles, rays, blowfish, and caught many cool fish. My family loved the trip. The captain was so nice and knowledgeable. I typically get sick on a boat but this ride was smooth, the water was calm and I had no problem. It was so nice we went back again the next day.
Locals Know Best!
Can't say thank you enough to Capt Steph! Her knowledge & expertise of the area & kind heart are 2nd to none! Excellent day on the water learning the area & enjoying some laughs, HIGHLY RECOMMENDED & we'll be back for sure (fair warning Capt Steph)!
Captain Steph is a great guide. She taught us about the area history and waterways.
There is nothing like local knowledge. While vacationing at Ozello Key we took a morning boat tour. We had our own boat but wanted to learn how to navigate the area, and were the best places to fish. What we got was a lot more. Ozello Key, Homosassa Springs, Monkey Island and the whole area have a rich history. Captain Steph made it fun to learn. Thank you Captain for making our trip so memorable we are looking forward to our next vacation. Hope to see you for Scallop season.
Do you want fun relaxing trip
Group of 4 fell I love with captain Stephanie instantly. Down home gal. Tried speed and slow. Saw dolphins beautiful clear water . Made it to the Gulf a for my first trip. The Ozella keys are beautiful.
Thank you for a beautiful afternoon. We shall see you an Chrissy at Ozella Keys pontoons.
Wallace & Wilson
Great trip and great Captain
We have been on two boat tours with Captain Steph. The rides were great. We saw dolphins, manatees, the monkeys at Monkey Island. Captain Steph is great! She very knowledgeable and informative. She is very personable and friendly.
Anyone who takes this tour will love it.
Don't wait any longer…
Book your tour!! Capt Steph and Chrissy are exceptional at what they do, and know. They made sure to give us a 'once in a life time' swim with the manatees. We'll be forever grateful!
Time well spent!
My husband and I thoroughly enjoyed our Island loop tour with Capt. Steph. She is extremely knowledgeable about the area and loves what she does. We spent our last few hours in Ozella on the boat with our two pups. She even made sure to bring along a bowl of ice water for them. Super sweet🐶
Great Day on the Water!!
Took my son for the first time scalloping and had a blast ! We caught our limit, Captain Chrissy and Stephanie treat you like family and take the time to help you learn how to find them. We will be going with them again next year. Captian Chrissy is knowledgeable about the wildlife in the area. If you want a great time with your family book a trip! You can even bring your 4 legged kid !
Look No Further!!!
Captain Chrissy and Sue are amazing! Had a Great Day on the water, we got our limit. They are dog friendly and even her dog Skyy came with us 🙂 and is the sweetest dog. Book your trip today !!